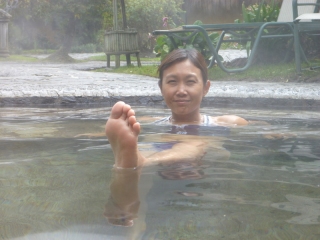 24th July 2011
It's the final whole day of our year-long trip around the world. We must see one last mammal! Or have one last amazing experience! One final superb celebratory meal!
But no. It's raining, it's raining. So our final day will be flopping around Papallacta and splopping like lazy sealions into the hot pools outside our room. Dinner will be in the hotel restaurant, decent enough but hardly memorable. That is something I can reflect on this year, though – the very best days haven't been significant ones; birthdays or Christmas and certainly not New Year.
Many of the best haven't even been particularly planned, although I'm not going to naively suggest that money can't buy you memories: the Galapagos, the Routeburn Trek, Khao Sok lake, have been some of the finest moments of our year. But so were watching whales from the shore at Hermanus, wandering the streets of Kowloon, or watching hummingbirds at Mindo Loma yesterday. And a £1 bowl of Khao Soy at a street restaurant in Chiang Mai is every bit as good as a £170 dinner at Iggy's in Singapore. I wouldn't have wanted to miss either end of the spectrum.
One more travelling blog tomorrow from Quito airport. Although once we get back I still want to add things here. There are so many photos, I'd like to put up a couple of "Best Of" galleries so I can show off the absolute cream – by persistence as much as anything I must have a few photos that even a keen photographer would be proud of! Then there's updates to all our equipment and planning notes – while preparing for our trip I got fed up with other bloggers who explained in detail what they decided to pack but then didn't bother explaining how that worked out in practise. And we've also spent the whole year putting lists together – 24 hours a day in each other's company, it's impossible not to fill some of the time discussing our "five best wildlife encounters" or "five favourite foods"!
Yep, quiet day today. It still hasn't dawned on me that we're going home, in the same way I didn't realise our year had started until we touched down in South Africa.