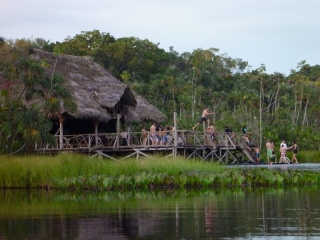 8th July 2011
We're in the Ecuadorian jungle, part of the huge Amazon basin that covers most of tropical South America. Outside our cabin I can hear the innumerable sounds of the tropical rainforest: cicadas chirping, frogs creaking, crickets playing, night birds calling and Americans talking. People whose conversational volume is loud enough that I can hear what they're discussing perfectly well even though their cabin is five yards from ours really dent the tranquility of the wilderness. I'm very, very relieved that we won't be sharing a guide with them when we go out into the jungle. Instead we are with a family of Danes, just three of them and they seem friendly and most importantly; quiet!
We've been out for a night walk already, and have seen a bunch of the splendid creepy-crawlies that the rainforest is absolutely full of. My favourite was the giant millipede, with thick black armour-plating and the scent of bitter almonds. That is actually the scent of cyanide, which they emit in mild doses to repel predators. We also saw a tarantula, well you've got to really. Our local guide Columbia lured it from its hole and it stared at us with all its wrathful eyes glinting. We've got two guides; an English chap called Dan who came to Ecuador five years ago and never left, and Columbia who has probably lived here all his life and knows the forest inside and out. I don't know why he is named after a neighbouring country.
We also have a good bit of wildlife around our cabin, inside and out. That might not be everyone's idea of fun, but I actually really love the small sense of being close to nature that comes from spotting things in or around your lodgings. Not that I have any plans to go the next step and take a five week camping expedition up the Amazon! Nope, I'm content with seeing Black Agoutis rummaging in the leaf litter behind our cabin and finding a small lizard in the shower with me.