9th May 2013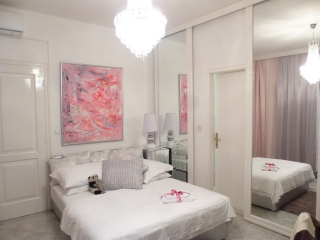 Even if you're planning on finding accommodation as you go along, it's always a good policy to try and book your first night in advance. You've been on a plane flight, you're arriving in a new place with new rules, it might be after dark, the last thing you need is to be skittling around a strange city late in the evening, starving hungry and confused by the crazy local drivers while hoping to bump into a nice place to stay the night.
Even with our accommodation booked Dubrovnik nearly gave us the hump. The slip-road off the main highway into the city was closed for roadworks, neatly circumventing our carefully printed Google map directions to the apartment. Which left us pretty much trying roads into the city at random until by sheer chance we accidentally drove back out of the city… and found ourselves on the other side of the roadworks to the sliproad. Perfect. We stopped, turned around, and followed the printout.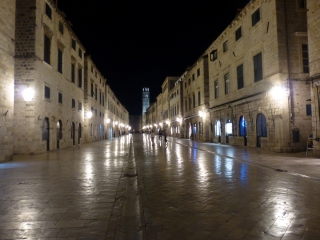 Parking was tricky, down a narrow road with cars parked higgeldy-piggeldy in any available space; I wedged us into a lucky gap in a corner between two other vehicles. Finding the apartment was tricky, as it was off down a series of winding alleyways and so the map pin wasn't actually in the right place (Google maps only understands drivable roads – well, it is American). We only got settled and set out to look for dinner at 9:30.
Luckily the old town of Dubrovnik at night is beautiful. There are no cars inside the walls, and the streets are made with marble blocks worn polished and shiny by centuries of foot traffic. Occasional trees look good against the old limestone walls, and most are oranges so the magical Mediterranean scent of orange blossom is in the air. Our supper of octopus, mussels and tiny fried fish was simple and delicious. The bottle of friendly local wine helped.