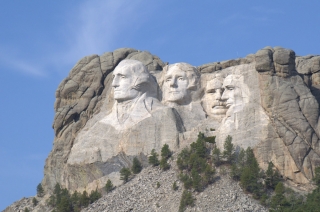 24th September 2012
Today ought to have been a trip to watch the famous bison round-up in Custer State Park. However, advice on all sides last night was to get there at 6am in order to queue with 20,000 others to get in before the round-up takes place at around 9am (all 10 minutes of it), after which you can expect two more hours of traffic getting out. We gave it a miss.
Instead we visited Mount Rushmore, which really is as impressive as the photos suggest. The presidential noggins are beautifully carved out of the granite mountainside. It's a feat of artistic expression that is easy to gloss over until you see it. Sure, there are colossal statues and immense buildings elsewhere in the world, but they are all built out of stuff. It takes the world's most flamboyant nascent superpower to say "hey, let's carve a sculpture out of an entire mountain."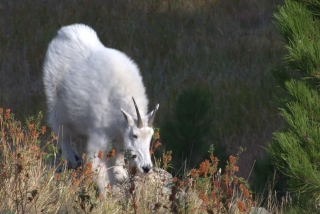 As a bonus, there are wild mountain goats in the area and today they happened to be chewing the grass right in front of the viewing area (though I couldn't quite get one to line up with the presidential noggins in soft-focus behind her). Apparently they tend to come down around us humans when there's a mountain lion in the vicinity, but that we did not see.
Crazy Horse, an even more colossal mountain carving a few miles away, will probably look incredibly impressive when it is complete in thirty years or so. I didn't find the sprawling museum of Native American paraphernalia at the foot of the mountain to be particularly engaging, but I'd be willing to pop back when Crazy Horse himself is complete. It's going to take an awful lot of dynamite and drilling.
Yep. Only Americans do sculpture on whole mountains.