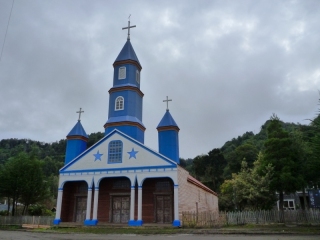 4th June 2011
Apparently it rains all the time on Chiloe, but until today we would never have guessed. Even then, the rain held off until after lunch.
We took a roundabout route back to the ferry at Cachao so we could visit the church at Tenaun and stop at a recommended place for lunch in Quimche. The church is certainly the most colourful on the island, splendid in front of the green hills that loom above the fishing village. I ought to try and describe Chiloe a little better, I haven't really talked about the villages and landscape away from Chepu.
Apart from the main north-south artery and three or four other routes, the roads in Chiloe are all dirt. It's dark brown dirt, and quite often dark brown mud where the drainage isn't so good. We've had a couple of wobbly nearly-in-a-ditch moments. There's plenty of places you couldn't get to without a 4WD, and the trouble is you often don't discover this until you're several kilometres down the road! The villages themselves are not terribly picturesque, though they are certainly rustic and at times you get the strong sense that you're near the edge of the world. Every single building on Chiloe is made of wood, sometimes with metal cladding. The rolling green hills of the island cover huge glacial deposits but nothing you could build a wall out of.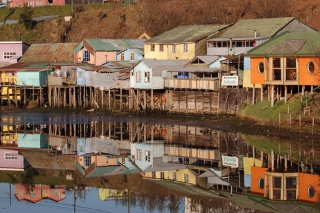 Fishing and farming, that's what people do here, I don't think there's much other industry to speak of. These days 90% of the population live in Ancud and Castro, the towns being sprawling versions of the villages. Modernity creeps in – there are some surprisingly snazzy looking cafes in Castro and a few boutique hotels, but that's it. The ubiquitous photo on tourist literature is the palafitos, stilt houses built out into the harbour all around the edge of Castro, while the main part of the town including the church perches up on a round headland. We're actually staying in one, a handful of them predictably turned into hostels and hotels; the interior of ours is smart, new, rustic-chic and completely at odds with the ramshackle exterior.
The weather gives all kinds of moods to this island, some of them very photogenic but others are moods in the truest sense – they turn your mind to certain thoughts as the atmosphere of the place wraps around you. We left the island in a grim mood, the cold rain drumming down on the metal deck of the old ferry and the sky already dark an hour before dusk. The fin of a single dolphin parted the choppy grey ocean before disappearing and we hid in the car until the ferry stopped and deposited us on the mainland shore.