Sunday 10th September 2023
Today was Exploring Krakow Day. We started by walking around the old town. One pleasant element is a park that circles the whole old town like a ring; it's actually the old moat and fortifications, but now it is green and shaded with trees (handy, as we're still at 27C). One fragment of medieval wall remains, and is decked every day with big canvas paintings for sale.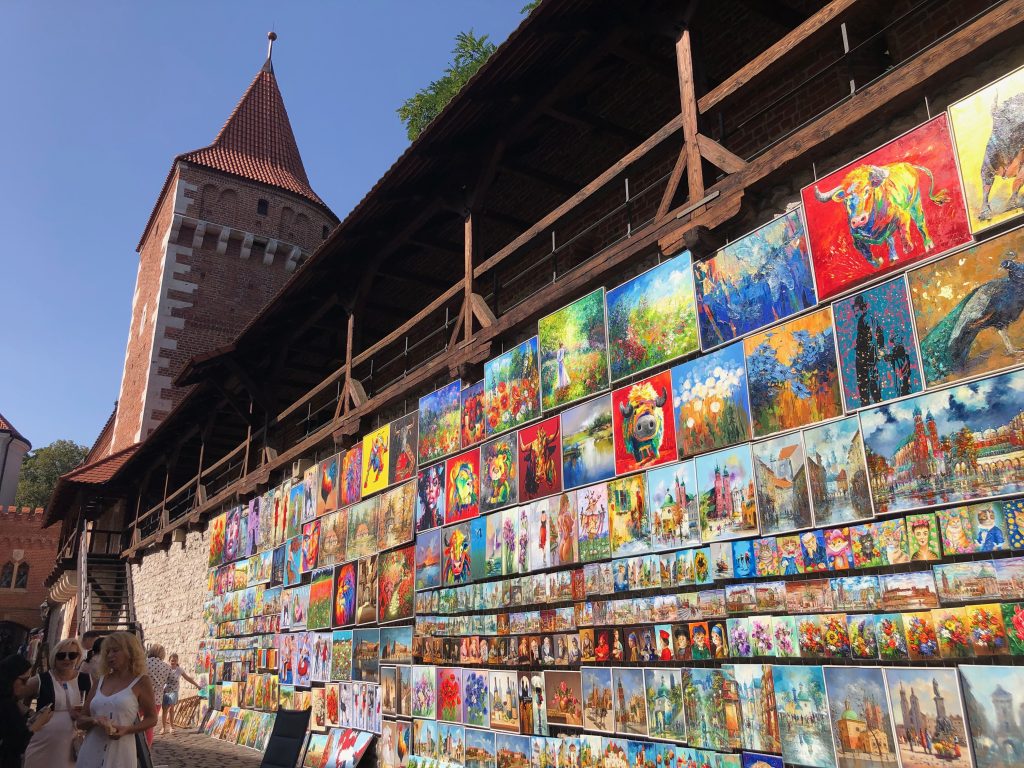 The huge Rynek square is by far the most impressive part of the old town, and one of those places that you seem to always end up at (update: I think we walked through it 8 times on our 2.5 days in Krakow). I must admit to loving the twee tradition of the bugler who plays from the four cardinal windows of the main church tower every hour, a short fanfare that ends very suddenly to represent the moment when a brave bugler was shot by an arrow while warning of the approaching Mongol Horde.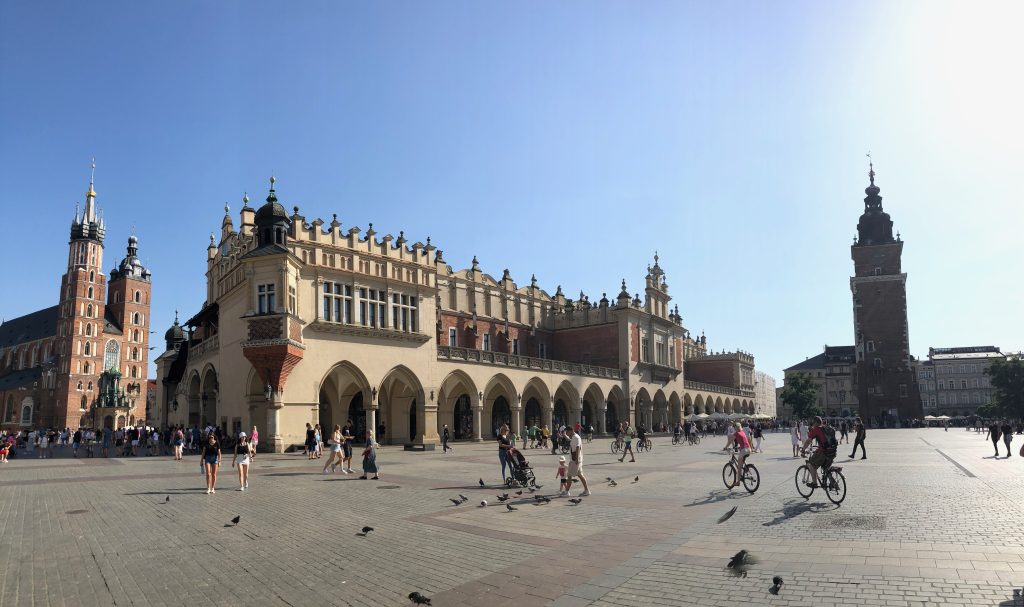 We ended our walk in a lovely courtyard cafe called Cafe Tartelette with iced drinks and a cheeky cake.
And then we started our second walking tour of the day, the Jewish quarter called Kazimierz. This district was immediately more grungy and on less of a grand scale than the old town, with a sprawling second-hand clothes market occupying one of the main squares. There's some striking memories of the Nazi occupation too, as this area was emptied by the Nazis during the war and far too few ever returned. Looking around at the hipster cafes and occasional design shops, Kazimierz clearly fits a type: "the bohemian down-at-heel district just close enough to the centre to become a new tourist district for visitors too hip and jaded for the main tourist draws." I liked it. Well, I would: I'm one of those creatures.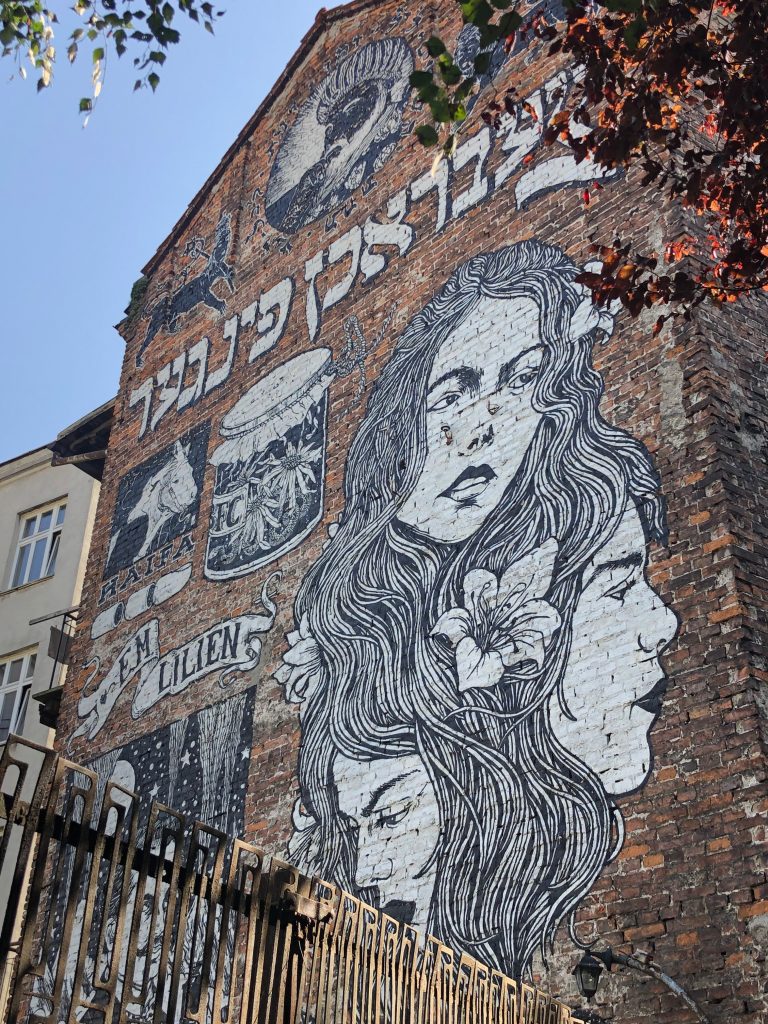 After all that walking, we had a late lunch of Jewish appetisers in a very un-hipster cafe/restaurant terrace, then took a tram back to the hotel. Note to self: trams, in Krakow at least, are much more quease-inducing than buses or trains. I think it's the jerkiness and swaying around the corners.
Dinner tonight was probably the best of the trip (nice to end on a high note, as mum and dad are heading home tomorrow). Kogel Mogel is a bit less trad than Pod Anomiali (but only a bit) and we were very well looked after by a waiter who really understood old-fashioned hospitality. He quite agreed with us that the chef-y little pot of creme anglaise was not enough custard at all for a big piece of apple pie, and wrangled two top-ups from the kitchen. Best dish was the buckwheat cabbage rolls that Maureen had – another Polish classic.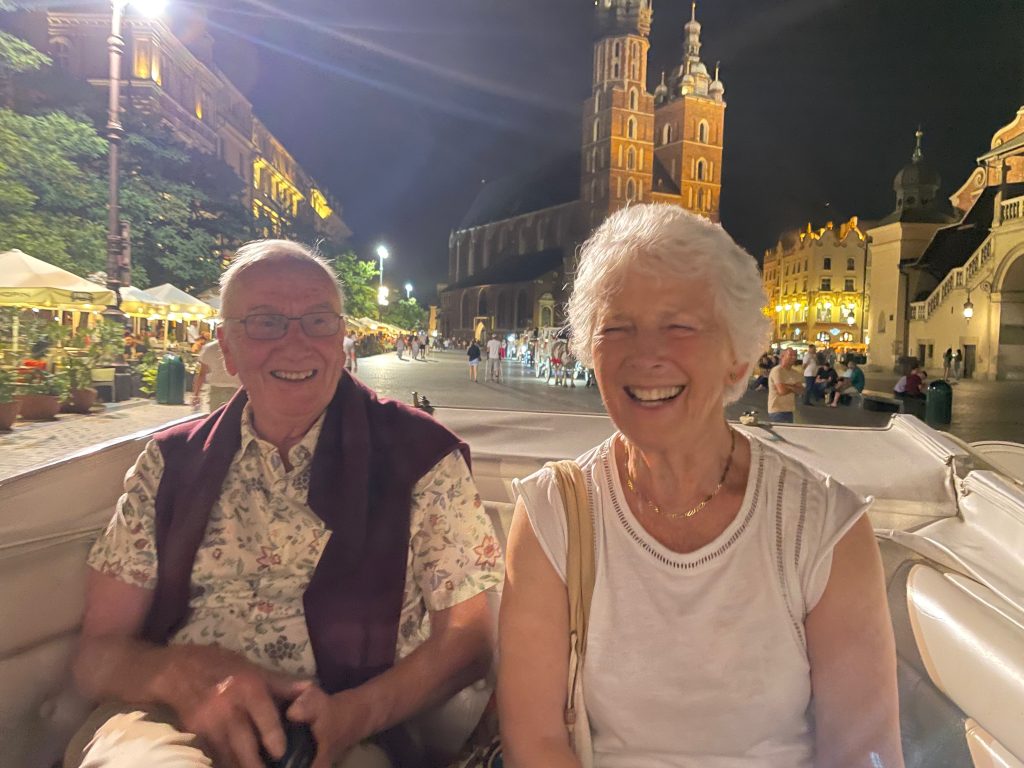 With a bit of wine and liqueur inside us, we easily succumbed to the temptation of a carriage ride around the old town under the streetlights. The white two-horse carriages trotting around or queued up awaiting tourists has been an omnipresent feature of the old town, and after negotiating a bit of a discount we had a lovely twenty minute trot around all the sights we'd seen today, by night. Nice ending.